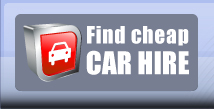 Articles about car hire in specific locations:

Menorca, the second largest island of the Spanish Balearic Islands, has long established itself as a popular destination for holidaymakers from the UK. Menorca Airport, the main gateway to the...
---
Poland is a vast country with a versatile tourist offer. While many visitors to Poland are attracted by the country's 'wild side' – the unparalleled beauty of Polish mountains...
---
Lubeck Airport – LBC is located in the North easterly corner of the county of Schleswig-Holstein. The historic Hansa-Stad Lübeck is the second largest city after Kiel in the Schleswig...
---
Public holidays in Poland in 2018 and 2019 are as follows: 2018 2019 1 January (Monday) New Year's Day 1 January (Tuesday) 6 January (Saturday) Epiphany 6 January (Sunday) 1 April (Sunday...
---

When planning your trip to Italy, keep in mind the public holiday days when your access to most of the public institutions and services may be limited, if not impossible. Below is the list of...
---
Provence, the region of southeastern France is a versatile tourist destination. While its coast, with the emblematic locations as Nice, Cannes and Saint Tropez, attracts great numbers of visitors...
---
Get quotes for car hire from Barcelona Airport (Barcelona-El Prat) Barcelona, the capital of the Spanish region of Catalonia, is one of the most popular tourist destinations worldwide. The city...
---
Nice, the unquestionable capital of Côte d'Azur, or the French Riviera coast of southern France, offers an astounding choice of cultural and sport events held throughout the year...
---
Canada is the world's second largest country after Russia in terms of area, having a land border with only one country, United States. In many respects Canada and USA can be considered...
---
Economy car hire from Dubai Airport - compare offers online Dubai is an increasingly popular destination in the Middle East for both holidaymakers and people looking for business or work opportunities...
---