Express Rent-A-Car Poland - cheap car hire from major airports and city stations but do pay attention to extra charges
The Polish car rental company Express Rent-A-Car is one of many car hire companies providing RAC services in major cities of Poland.
Express Car Rental has done better than most of its competitors by offering cheap rates for hiring cars in Poland.
Express car hire Poland offers a wide range of vehicles - here Toyota Auris (cheap car rental Poland in the VW Golf car rental class).
Cheap car hire Poland? - save money!
The Express rental car company offers very affordable car rental (when looking at basic rates) and provides a relatively inexpensive fee structure. However, when booking directly at Express Rent-A-Car, sometimes it is rather surprising how many extra (mostly small, but still) charges the final invoice of an Express rental car can contain.
If you want to save money, compare prices for rent-a-car services.
The Express Rent-A-Car mandatory fees are included in the quoted rental rate when searching the rental car comparison site Cartrawler Poland. Options and extras can be seen under rate details.
Book your cheap rental car in Poland after comparing competitors' prices
Express Rent-A-Car in Poland - facts and figures
The company Express Rent-A-Car was founded in 1989.
Approaching the end of 2014, Express Rent-A-Car Poland has 15 rental stations located in the largest cities of Poland; amongst them Express car rental Gdansk, Express Szczecin, Express Warsaw, Express Car Hire Lodz, Lublin Express car hire, Express Wroclaw & Katowice and Express station in Cracow.
The rental company is present in all major airports in Poland including Modlin-Warszawa Airport north-west of Warsaw which opened in July 2012.
Express Poland cars for rent at Modlin Airport (here Express Rent-A-Car Suzuki Swift and Kia Cee'd next to Sixt Peugeot 301) © Photo: Find-Cheap-Car-Hire.co.uk.
See more about cheap car hire in Warsaw-Modlin Airport.
Cheapest cars for hire at Express Car Rental, Poland
The fleet of cars at Express Poland contains a large number of makes and models.
The cheapest car rental class is concentrated on the Ford Ka 3-door (or similar - offers will change on a regular basis). With the most affordable hire cars in this class, a 3 door rental car is standard with Express Poland car rental, but you may sometimes be able to choose a 5-door in this rental class (or get an upgrade) when arriving at the counter.
This particular car rental class is described as class A+ when renting from Express.
With only a slight increase in price, car renter Express in Poland offers the very accomplished Suzuki Swift (or similar). This car is classed as rental class B and is a considerable step up compared to the rather small Ford Ka or similar.
Cars from Express car rental in Warszawa Airport © Photo: Find-Cheap-Car-Hire.co.uk.
See more about the highly recommendable economy rental car Suzuki Swift.
All cars; even the smallest and cheapest ones at Express Rent-A-Car, are equipped with air condition.
In general, the security deposit is quite reasonable for small cars and very low for the larger and more expensive hire cars at Express Cars Poland. The company, in fact, charges the same deposit for all cars for rent - per summer 2014 the security deposit blocked on the customer credit card at the counter is approx. 250 euro (PLN 1000).
As per summer 2014, all Express rental cars have unlimited mileage included in the rental rate.
Compact and medium sized cars for rent at Express Poland
In the compact class of car hire, the Express fleet contains the ever popular Opel Astra as well as proven rental cars such as Skoda Octavia and Hyundai i30 (VW Golf size).
Opel Astra rental car in Warsaw (this one from Europcar) © Photo: Find-Cheap-Car-Hire.co.uk.
Most cars in this category; referred to as car hire group C, are equipped with gasoline engines.
For the larger estate cars in the class C+ category, such cars as Skoda Octavia Kombi, and Hyundai i30 Wagon mostly come with diesel engines when renting at Express.
The medium size rental car at Express, Poland is often a Toyota Avensis or a Ford Mondeo. Similar cars in this class include Opel Insignia and VW Passat.
Minibus cars for hire are available from most locations. Most common people carrier offered at Express Car Rental in Poland is Opel Vivaro/Renault Traffic minibus (9-seater). The MPV option (7-seater minivan or 5+2 seater minivan) is not available from Express Rent-A-Car per late 2014.
Opel Vivaro 9-seater minibus rental (here facelift model 2014).
It is possible at Express rent-A-Car to hire commercial vans (white vans for transport/moving of goods without rear seats) of different sizes.
Rental terms & conditions Express Rent-A-Car - fees and extra charges
Additional charge for extra driver, a child seat, renting snow chains, booking of one-way rentals or maybe for renting a navigation system is common with rent-a-car companies in all countries in Europe. These items and services are considered extras or options.
When renting from international companies in Poland like Avis, Hertz, Europcar, Sixt or similar, you are likely to get charged the above mentioned types of fees too - except if there is a special campaign for free extra driver, free navigation system or similar is on.
At Express Rent A Car, the range of fees according to the Express website and terms & conditions includes the above extra charges and quite a few additional charges, some of which are unavoidable. Please see list below (updated august 2014).
The slightly unusual 'options' charges are:
cross border travel fee of PLN 50 (12 euros) - one-time fee for all cross border travel.
cross border fee per 24 hour of PLN 35 (approx. 8 euros) - for each day driving abroad.
pick-up/drop-off fee PLN 85 (20 euros) outside normal business hours and on holidays.
exclusion from administration fee in the event of a claim PLN 20 - equal to some 5 euros (!).
...as well as the following obligatory Express rental car Poland fees and charges (non-avoidable charges) additional to the basic rate:
mandatory cleaning fee PLN 50 per rental (approx 12 euros).
mandatory pick-up fee of min. PLN 25 (some 6 euros) -in any location/airport.
mandatory drop-off fee PLN 25 (6 euros) - in any location/airport - non one-way rentals.
Please note that if Express does not have a station/stand in a particular airport or city location, when booking at Express directly, the pickup and drop-off charges are considerably higher i.e. in Szczecin Airport, where both pick-up and drop-off are charged at PLN 85 each when booking directly with Express car rental in Poland.
The extra charges at Express Rent-A-Car are many and slightly less customer friendly than other competitor Poland car rental rates and fee structures. The fees and charges with Express are not high as such, but the sheer number of charges and complexity of calculating the total price for an Express rental car may put some customers off.
In other words, some rent-a-car companies present in Poland offer a far less complicated calculation of the total rental rate for a car to the benefit of the customers.
Express Rent-A-Car offices - list of major rental car stations at Polish airports
Express car rental is available from all major Polish airports.
The Express car rental airport offices are:
Express car rent Warsaw Airport (WAW) in the arrival terminal
see current rental rates
Krakow Airport office (KRK)
Gdansk Airport office (GDN)
Katowice Airport Express office (KTW)
Wroclaw Airport car rental station (WRO)
Warsaw-Modlin (WMI) office Express car rent - mainly Ryanair flights to Warsaw
In the following medium sized airports in Poland, Express has meet & greet service, which means that the cars are delivered by Express employees to customers when arriving (pre-bookings only):
Szczecin Airport (SZZ)
Lodz Airport (LCJ)
Poznan Airport rental station (POZ)
Rzeszow Airport office (RZE)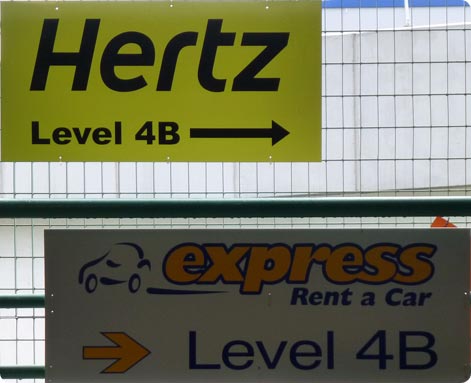 Express rental cars in Warsaw Airport (Warsaw-Chopin) are found at level 4B parking next to Hertz in the large parking building across the street from the arrival terminal © Photo: Find-Cheap-Car-Hire.co.uk.
Additionally Express Car Hire Poland rental stations are found in most major cities. By far the larger part of rentals to non-Polish nationals and to Polish nationals living abroad take place from airports.
City rental locations in Poland include:
Warsaw, Bokserska 64 (main office).
Cracow city office, address: Bonarka City Center, ul. Kamieńskiego 11; 30-644 Kraków.
Wroclaw city center office at Magnolia Park Shopping Centre, Legnicka Street 58.
Poznan City rental office at the Malta Shopping Centre, Maltańska Street 1; 61-131 Poznań.
Gdansk - no city station, but delivery from airport station.
Lodz office at M1 Shopping center, address: Brzezińska Street 27/29; 92-103 Łódź.
Lublin city office, address: Bursaki 8 Street. 20-150 Lublin.
Szczecin city rental office, address Pomorska Street 144, 70-812 Szczecin.
Katowice city, address: ul. Chorzowska 107; 40-101 Katowice.
Chorzow station, address ul. Zielony Zaułek 2; 41-500 Chorzów (Katowice area).
An extra charge applies when booking one way rentals (from one rental station to the other), but the additional cost, in general, is very reasonable. When booking Express cars at Cartrawler Poland any one-way fee is included in the rate.
Main office for Express Rent-A-Car Poland is located at the Warsaw address ul. Bokserska 64, 02-690 Warszawa. The HQ is located in the Mazowieckie region of Poland very close to Warsaw-Chopin Airport.
Express Rent-A-Car Poland - reviews, recommendations and opinions
Customer reviews found on the internet like Tripadvisor and various Polish forums underline the fact that the number of small extra charges at Express can be confusing.
As all other major car rental companies, Express Poland Rental Cars has its share of unhappy customers, but as per end 2014, our researchers have no reason to believe that the company is performing badly with respect to customer satisfaction. The Express Rent-A-Car reviews are too few to warrant neither a particular positive nor a particular negative general evaluation.
At www.find-cheap-car-hire.co.uk we have not yet (per late summer 2014) with frequent Express car rental bookings, received any complaints over the company.
If it is anything to go by, Express Rent-A-Car prides itself by mentioning rewards from leading Polish business magazines on its website.
Overall evaluation is that Express Rent-A-Car can be recommended. Express is one out of a few larger Polish rental companies operating country-wide. It has been on the market for a good number of years and offer competitive prices in particularly the citycar, economy rental car and compact (Golf-class) segment of the market.
Compare prices for rental cars in Poland from Express, Panek, Rentis as well as from the international companies Avis, Hertz, Sixt, Europcar, Budget, Alamo, Enterprise etc. with Cartrawler Poland.
Other Express services - leasing and fleet management in Poland
As with many other major Polish rental car companies, the strong and growing market for car leasing and fleet management has been very attractive for Express to enter.
Express offers medium and long term rental (leasing) as well as fleet management solutions to businesses in Poland.
---
This article was researched and produced in August 2014.
Please note that the rental offers for cars (rental fleet), rental rates and rental conditions can change, and rental offices can open and close.
The editors of www.find-cheap-car-hire.co.uk try to ensure that the content of this website is accurate, adequate and complete; however, they do not represent or warrant its accuracy, adequacy or completeness.
---
---