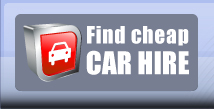 OUR PRICE ADVICE:
You can currently also find very competitive offers from
AUTO EUROPE.
Avantcar car rental Croatia
Amongst many car rental companies operating in Croatia, Avantcar is the one to be found in most popular tourist destinations, such as Zagreb Airport and Downtown, Zadar Airport, Split Airport, Durovnik Airport, Pula Airport and Downtown and Porec. The company is also expanding services to the neighbouring Slovenia.
The rental fleet of Avantcar consists of over 1000 vehicles in a wide range of classes, including economy, compact, full-size and large family cars, as well as premium vehicles. Avantcar is also a leading provider of electric mobility in Croatia offering a good choice of electric cars, amongst them Tesla Model S.
Croatia car rental deals on Cartrawler
The internet search engine, below, allows you to compare prices from major rent-a-car companies in Croatia, amongst them Avantcar. Define the destination and rental dates to see a comprehensive list of currently available offers.
---