Been offered excess insurance for your rental car? – just say 'no thanks' if you don't want it
Renting a car has become increasingly cheap.
Especially outside high season, offers for car rental can be extremely advantageous for customers in typically holiday destinations of Southern Europe (for example Faro Airport, Malaga Airport, Nice Airport and even Lisbon Airport).
The low rates are due to excess supply of cars. Be sure to book your car online. Walk-in customers pay more.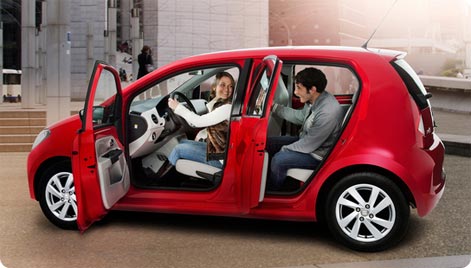 A small car can, sometimes, be rented for ridiculous money when booking online
In 2015, the competition became even fiercer with companies like Interrent, Firefly, Goldcar and other low cost supplier offering extremely good rates down to only 3 euro's per day for renting the cheapest car.
It is not possible for neither company to make a profitable business out of renting out cars at those super-low rates.
Unfortunately, some companies tend to push the sale of extra options and services quite hard upon the customer – to compensate for lack of income on the rental deal itself.
Extra insurance – you can always say 'no thanks'
One of the most popular extras is to offer is the excess insurance – which can also be found under the name of 'glass & tyre insurance', 'peace of mind insurance' or similar.
With all the extra insurance offerings, as a customer, you are always entitled to say 'no thanks'. The extra insurance is as the word indicates optional, as any rental car in the EU is insured to legal requirements for the rental customer to be driving it.
Usually, an excess exists on the rental car standard insurance. If the excess amount is say €500, this is the value which the customer can lose in case of a damage. The amount will be deducted from the security deposit in case of a damage. If only a small damage, the deduction may be less than the excess/security deposit.
When renting a car, the staff at the counter will frequently point out that some items are excluded from cover – and must be covered by an optional insurance. Not true! – You are free to drive your rental car without glass- or tyre-cover or any other optional cover. The excess is the maximum amount you can pay for a damage if you adhere to the contract.
Especially the company Goldcar is very pushy when selling excess insurance. Just say 'no thanks' if you don't want it. Many times the excess insurance is way over-priced at the counter and rental car staff is on commission to sell it.
When booking online with www.find-cheap-car-hire.co.uk, in most cases, excess insurance is offered – and usually at a lower or much lower rate than at the counter at the destination. You are still very welcome to say 'no thanks' and just book the car without taking out optional insurance.
Most rentals will never see a damage and it is worth bearing in mind that it can be very expensive to insure yourself 100% out of all risk. Maybe better to evaluate the risk of a loss (the excess amount) and run the small risk of a limited loss.
The more expensive car you rent, the more likely that a damage will be expensive to fix; hence you may want to take out excess insurance on your BMW or Mercedes rental car.
---
---